20 Feb

Aerospace certification will support all business lines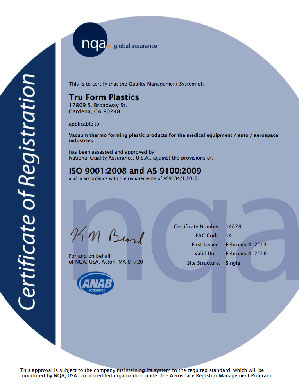 Aerospace certification will support all business lines
By Clare Goldsberry
As published in Plastics Today: July 24th, 2013
Tru-Form Plastics, Inc. (www.tru-formplastics.com), a thermoformer of custom components for the aerospace, medical diagnostic equipment, transportation and lighting industries, announced the company's certifications: ISO 9001:2008 and AS 9100:2009 in accordance with the requirements of AS 9104A (Aerospace).
Tru-Form sought the Aerospace Category certification as part of its on-going commitment to and history of supplying aircraft components, including aircraft interior and galley parts. The certification comes as the company announced plans to significantly expand its support of the aircraft interior market. Company officials said the aerospace requirements for documentation and strict adherence to quality standards supports the requirements of its quality-minded customers in a broad range of industries.
Jack Schrieffer, Tru-Form's sales manager, said that obtaining ISO certification is more critical to a company's success today than ever before. "ISO is multifaceted and it's not something that a company can do after-the-fact," he told PlasticsToday. "If you want a problem-free part it starts with the part design, not when you begin making the part itself. At Tru-Form, we want you to understand the process and the limitations of the process. Getting the part designed right – designed for the process, for manufacturability – is critical."
Considerations for part design, said Schrieffer, include the end-use application such as where will the part be used and how will it be used. "We'll help you come up with the design features with the long-term in mind," he added.
Both ISO and AS certifications can also help a company become an approved supplier in a shorter period of time, which is beneficial to both companies, Schrieffer noted. "What we've found is that while a lot of companies still want to do an audit to ensure our suitability as a supplier, the audits may only take a half-day rather than three days or longer," he said. "The fact that we've gone through the rigors of the 17-month process for ISO and AS certification means they can sign off on doing with us with the confidence that we can fulfill their requirements for quality from design to finished part. ISO and AS certification isn't just a calling but part of the whole quality equation."
Tru-Form, a privately held company established in 1956, is located in Gardena, CA, occupying a 50,000-sq-ft facility. The company is capable of forming parts up to 5 x 9 ft trimmed on 5-axis CNC trimmers to ensure optimum aesthetics and precision fit.