20 Feb

Assembly & Fabrication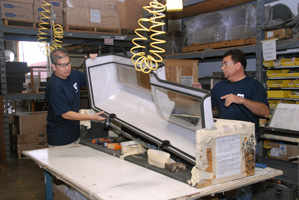 Tru-Form Plastics, Inc. is a "Turn-Key" manufacturing facility with many plastic molding processes, trimming, metal machining and finishing of individual components as well as providing fabrication, bonding and assembly of multiple parts. The TFP team has years of valuable experience in providing finished parts that require delicate, complicated and precise fabrication and assembly.
Our goal is to provide the most complete part possible at a competitive cost and speed to market. From your initial design, TFP will be able to take your idea, mold or machine it, paint, assemble custom pack and ship it.
We use our experience to offer an entire compliment of assembly and packaging services including bar coding that strategically align with your business objectives. TFP project experts have the knowledge and capability starting from your initial design to the final production stage, ensuring complete fit, form and aesthetics of each assembled product, all under one roof.
TFP Excels In:
Multi-Part Assembly
Die Cutting
Hardware Installation Gluing/Solvent Bonding
Heat Welding
Sonic Welding
Painting – one of the few on the West Coast
Silk Screening – Easy Secondary Operations
Customized Packaging to Prevent Damage