20 Apr

Engineering & Quality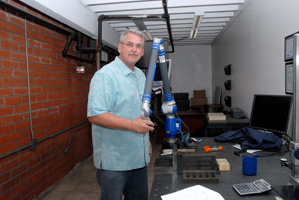 TFP's engineers can provide advice and technical support to fit your every need by helping create and execute solutions to solve problems of form, fit and manufacturability. Our engineering and quality staff work closely with our clients and the entire TFP team to ensure that the end product meets the needs of the user and the marketplace.
Engineering: Our engineers have built an atmosphere of "out of the box" thinking to provide technical and quality suggestions to meet or exceed our clients' needs for dependability, cost and manufacturability. This results in a partnership with each of our customers, which starts at the pre-production phase. We work with you to analyze your projects to identify cost-savings opportunities as we integrate quality and confirm manufacturability.
Quality: TFP's extremely skilled and experienced QA department fully reviews the quality requirements that we document and monitor throughout the process. Utilizing a full range of measurement equipment including FARO Arm®, color measurement, digital calipers, tint meters and many other state-of-the-art equipment we promote uniform dimensional accuracy, structural integrity and cosmetic consistency throughout all in-process and finished parts and assemblies.
Capabilities:
Understanding customers' design requests and assisting from conception to completion.
Complete reviews of customers' projects and designing outlines for tolerances, material requirements, drafts, undercuts and detailed features.
Experts in material selection and function.
Modern quality equipment i.e.: Ultrasonic thickness gauges, OHM Meters, Gloss & Tint Meters and a FARO Arm®
New Additions:
TFP is investing in and will soon have 3-D rapid prototyping helping create true-to-life parts of any kind with superb accuracy. This addition will show the smallest details for functional, fit and form testing, allowing for your design verification.
TFP continues to add state-of-the-art equipment to help us provide the best services available to you, our customer.
We will soon have a thermoforming simulator which provides a detailed and accurate prediction of what will happen during the forming process before you cut the tool or scrap expensive material.
Adding these capabilities will help you reduce design time as well as reduce possible expensive trial and error processes.
TFP Excels In:
Operating with integrity as we pursue the best interests of our customers.
Production start up through first article.
Immediate attention from engineering and quality involving any non-conformance.
Providing in-process and final inspections to customers for ease of mind.
Quality and engineering departments are committed to total quality management from production to final inspection.