20 Feb

Painting & Printing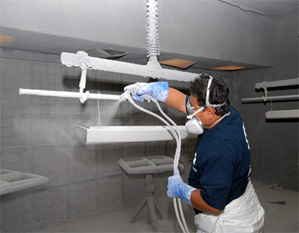 TFP's in-house painting department provides a variety of applications using state-of-the-art equipment. Our painting experts use the latest techniques to apply the coating per your specifications. Special templates and fixtures are designed to cover parts over the areas that do not require paint. These detailed forms contour the required surfaces thus streamlining the prep and masking process.
Because of our commitment to EPA and AQMD regulations, TFP is one of the few painting houses permitted by the State of California to perform shielding applications with nickel and copper. In fact, TFP is UL approved and certified for application of said materials on certain substrates. While adhering to AQMD permissible standards for higher VOC's, we encourage application of 1.0 VOC paints across all materials to promote GREEN.
TFP has developed and maintains a very close relationship with major paint suppliers. Due to these relationships, we are able to obtain immediate responses for color matching and a quick delivery of paint. We also have the ability to test in-house for color, gloss and surface resistivity to meet all your requirements.
TFP Excels In:
Application of various types of paint including water bourne & polyurethanes
Smooth Finishes
Surface Texturing
EMI Shielding
Specialty Masking and Fixturing
Peel off Protective Coating
Multi Color Silk Screening
Pad Printing
Sand Blasting