18 Jul

What Do We Do with Left Over Plastic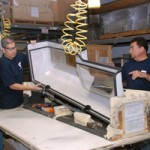 The thermoforming process we use to create plastic components for our clients starts with large, flat sheets of plastic that we heat and then add pressure to in order to form the components. The excess plastic is then trimmed away to complete the plastic component. What happens to all of this excess plastic that we trim away?
We know that many people are concerned about how plastic interacts with the environment, because it takes a long time to break down naturally. That is why at Tru-Form Plastics, we make an effort to reground and re-use all of our excess plastic. When we can, we reprocess this excess plastic so that we convert it into new sheets that we can use on our next project.
This recycling system makes good business sense but also helps us keep plastic out of landfills. We know our clients appreciate the fact that creating their plastic components doesn't result in a lot of wasted plastic!